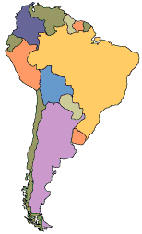 The Ministry for Foreign Affairs of Finland has financially supported within its development cooperation program the World Weather Watch since 1968, when WMO launched the Voluntary Co-operation Programme (VCP). Finland has supported the provision of radiosondes and control unit systems to WWW and global research programmes. Support has also been given by Finland to the training programmes on the operation and maintenance of hydrogen generators as well as to the delivery of spare parts to the main measurement stations, and observatories in developing countries.

Finland took part in strengthening WWW in Chile (Easter Islands), Colombia (Caviotas, Tumaco and Riohahca), Venezuela (Maracay) and Ecuador (Galapagos Islands).

Finland and the FMI, with the collaboration of the World Meteorological Organization (WMO) addressed the environmental need to improve data acquisition regarding atmospheric ozone and the corresponding UV-radiation monitoring in Latin America. The National Meteorological and Hydrological Institutes (NMHIs) of 17 countries (Argentina, Bolivia, Brazil, Chile, Colombia, Costa Rica, Ecuador, El Salvador, Guatemala, Honduras, Mexico, Nicaragua, Panama, Paraguay, Peru, Uruguay and Venezuela) participated in the assessment. It complemented and carried out in parallel to the Ibero-American Climate Project Feasibility Study in 1997-1998 at the request of the Inter-American Development Bank. The strategy of the Bank in environment and integrated water resources management aimed to help member countries to raise loans in order to improve their meteorological and climatic data acquisition programs, as a basis for sustainable development.